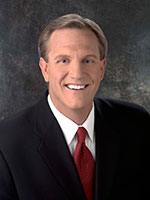 Richard Perkins
President
Native Nevadan Richard Perkins spent 14 years in the Nevada Legislature, including 2 years as Democratic Floor Leader, 4 years as Majority Leader, and 6 years as Speaker of the Assembly. With a record for consensus and coalition-building, he is considered a bi-partisan leader and counts his friends in both major parties. In 2006, he chose not to seek re-election to the Legislature and focused on his law enforcement career as the Chief of the Henderson Police Department, a career he retired from after 25 years. As president of the Perkins Company, Richard oversees the quality political and strategic consulting services clients have come to expect.
Perkins' extensive political and law enforcement network reaches all corners of Nevada and all across the country. He is also very involved in the National Speakers' Conference (Past President), the State Legislative Leaders Foundation (past Board Member), the National Conference of State Legislatures, the Council of State Governments, the International Association of Chiefs of Police, and many other political, policy, and law enforcement organizations. He has developed a network of elected and police officials whom he considers friends in other states and on Capitol Hill, including U.S. Senate Majority Leader Harry Reid, the entire Nevada delegation, dozens of other members of Congress, and many Governors, Speakers, and other legislators.
For fourteen years, Perkins helped guide Nevada's $14 billion biennial budget that included more than 425 state agencies. In this time he worked closely with HHS officials to draft budget, build programs and write policy. His relationships with career leaders in HHS and other departments remain to this day. In this time, Perkins also established the Nevada State College, spearheaded K-12 education funding and reforms, provided leadership on energy and water issues and developed expertise in gaming, labor/management, health care, and public lands issues.
Perkins served as the President of the National Speakers Conference in 2005 and still serves on its executive committee. Richard participated in the National Conference of State Legislatures (NCSL) Law and Criminal Justice Committee and Task Force on Homeland Security and Emergency Preparedness. Perkins has been a guest speaker on anti-terrorism, criminal justice and many other topics for the NCSL, State Government Affairs Council (SCAC), and the Council of State Governments (CSG). In 2004, Perkins was invited as a guest lecturer at an international anti-terrorism conference in Gdansk, Poland.
6 years as Speaker of the Nevada Assembly
4 years as majority leader in the Nevada Assembly.
2 years as Democratic Floor leader.
25 years with the Henderson Police Department, where he retired as Chief of Police.
5 children: Nicole, Stephanie, Brian, Ashley, and Rikki.
After a distinguished career in the ranks, Perkins became the Police Chief for Nevada's second largest city in April of 2006. Throughout his career, he was recognized for his work with crime victims and in 1991 was honored by the Clark County District Attorney and the Nevada Attorney General. Perkins attended the 183rd Session of the FBI National Academy in 1995 and is active in the Nevada Sheriffs and Chiefs Association (NSCA) and the International Association of Chiefs of Police (IACP).
Richard is the proud father of five children. Privately, he enjoys hunting, fishing, reading, traveling and competitive sports. Perkins holds two degrees – one in Criminal Justice, one in Political Science – from the University of Nevada, Las Vegas. Perkins is a Council of State Governments Toll Fellow, an American Swiss Foundation Young Political Leader, a Leadership Las Vegas graduate, an attendee of the John F. Kennedy School of Government at Harvard University and is listed in Who's Who in American Politics. Chief Perkins also serves on the Board of Directors for Paramount Bank of Nevada, Opportunity Village, and several other non-profit boards and committees.
Perkins is proud to serve our clients as President and chief lobbyist for the Perkins Company. From current clients like Newmont Mining or the City of Henderson or former clients like the Building Trades Council or Diageo Liquor, Perkins has brought his all to the lobbying arena. Politics is about relationships, integrity, and credibility and Richard Perkins brings all three to the table. In a fast-paced environment where many situations can be handled with a phone call, it's difficult to imagine a circumstance in which he wouldn't know who to contact.
Richard Perkins
was last modified:
April 18th, 2020
by
---