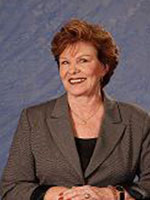 Kathryn Alden
Administrative Assistant
Kathryn Alden is a native of upstate New York, having spent 25 years working in the court system there, first as Executive Assistant to a Family Court Judge for ten years, and thereafter, 15 years in the Juvenile Prosecutor's Office as a Senior Trial Assistant.
Kathryn moved to Las Vegas in 1995, working in the Clark County District Attorney's Office Sexual Assault Unit, and then the Henderson Police Department. In1999, she moved to Carson City to work at the Legislature as Executive Assistant to the Speaker of the Assembly, Richard Perkins, until his tenure ended in 2005.
Kathryn transferred to the Assembly Chief Clerk's Office in 2005 as Executive Assistant to the Chief Clerk of the Assembly. She resigned from the Chief Clerk's Office in August 2011 and has been working for The Perkins Company since that time.
Kathryn Alden
was last modified:
November 30th, 2022
by
---