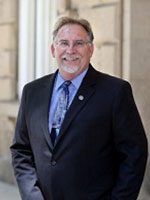 Mike Willden
Senior Associate
Mike Willden is an experienced health and human services, state budget and governmental policy leader. Mike retired in January 2019 following an impressive 45-year career in Nevada state government. Mike's public career included more than four decades of service within the Department of Health and Human Service, including 13 years as the Director, a gubernatorial appointment which spanned three different governors, finishing in 2014. Mike ended his state service employed as former Governor Brian Sandoval's Chief of Staff, a position he held for nearly five years.
For 25 years, Mike worked in the state's Welfare Administration Division, beginning as a case worker and promoting to a number of positions until ultimately becoming the state Welfare Administrator. In this capacity, Mike managed the Division of Welfare and Supportive services and multiple agencies which are now housed within the Divisions of Child and Family Services and Aging and Disability Services. In 2001, Mike was appointed the Director of the Nevada Department of Health and Human Services by then-Governor Kenny Guinn. Governors Jim Gibbons and Brian Sandoval reappointed him to that position when they were elected in 2007 and 2011, respectively.
While the head of DHHS, Mike oversaw the state's expansion of Medicaid under the Affordable Care Act in 2013. Mike was an influential voice in Governor Sandoval's decision to opt-in to the Medicaid expansion, marking the first Republican administration in the nation to do so. As part of this implementation, more than 250,000 Nevadans were granted access to Medicaid which cut the state's uninsured rate in half.
As the Governor's Chief of Staff, Mike led the executive staff and cabinet through two regular legislative sessions and two special sessions. In Mike's final 2 years serving as Chief of Staff, he helped put together a $8.1 billion General Fund state budget that marked the highest in Nevada history. During his tenure in the top executive office, Nevada experienced dynamic population growth driven by the state's aggressive economic development policies. Mike also spearheaded the statewide effort to combat the national opioid epidemic. Nevada's four prong approach to tackling this crisis, which claimed the life of one Nevadan every day, was heralded as one of the nation's most comprehensive and progressive policies in the ongoing battle against prescription drug abuse.
Mike hails from Lincoln County, Nevada and is a proud native of the Silver State. He holds a Bachelor's Degree in Business Administration from Southern Utah University.
Mike Willden
was last modified:
November 2nd, 2020
by
---